The beginning of the B2B digital transformation journey lies in choosing the right supplier and e-commerce solution, ones that meet the company's needs and provide the correct functionality. This is just the start, however, as even the most well-thought-out plan and best-suited system can lead to challenges in the B2B ecommerce implementation process.
What should be on your checklist before you proceed? We will investigate in this article the possible hurdles e-commerce companies may stumble upon when putting a B2B platform into action.
Preparing to implement a B2B platform: 3 fundamental principles
Focusing on the usability, visual appeal, or intuitive interface of a B2B platform is common, yet the core of e-commerce success is in the seamless and rapid order processing and delivery to the customer. A simple click by an online shopper triggers a complex process involving inventory management, logistics, customer support, and more. Now, onto today's topic…
Implementing an e-commerce platform can present various difficulties. As you read on, you'll learn about the essential elements needed in system implementation to meet customer expectations and contribute to the accomplishment of the company's business goals.
Enhancing your B2B ecommerce with a well-structured product database
In the implementation of a B2B platform, constructing a robust product database is often the first challenge. It's a critical component of every online store, whether B2B or B2C, determining the ease with which customers can find their desired items and comprehend what a product has to offer.
What is the meaning behind this? It's crucial to recognize that a page's appeal is not only in its visual design but also in its content. With most transactions now conducted online, well-crafted product descriptions are more important than ever.
Putting together a product database is a complex process demanding both time and commitment. Careful consideration, detailed description, and categorization are needed for all products offered by a B2B company. Using a PIM (Product Information Management) system like Akeneo or Pimcore, which have popularity in the Polish market, can be a wise move. This system facilitates the management of data and helps keep the product database current.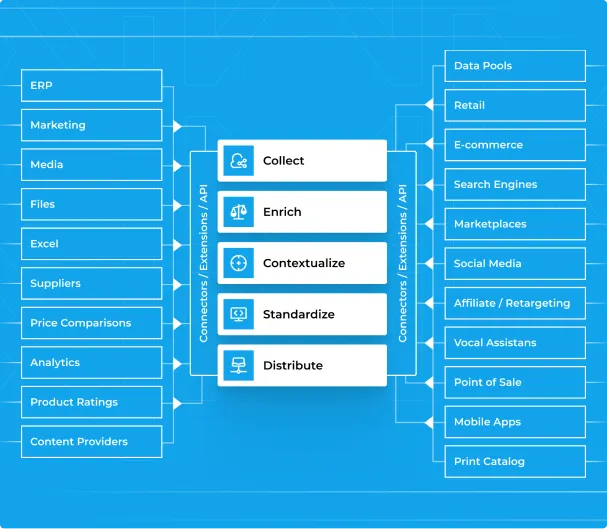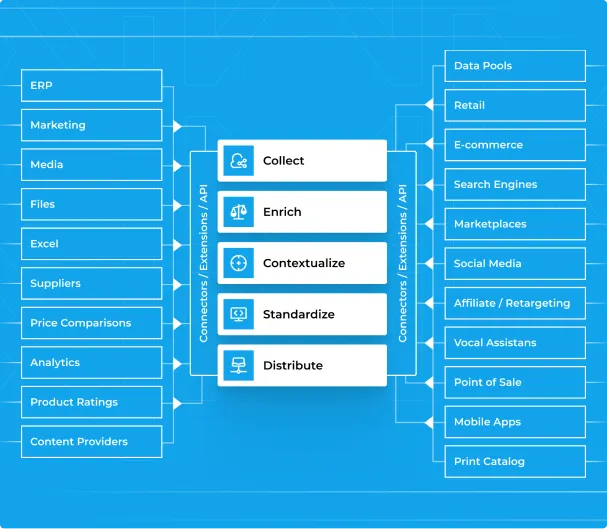 Ensuring product availability for B2B clients
In our store, the assurance that customers will get exactly what they seek is the second most crucial aspect to drive purchases. While B2C shopping typically means everything is in stock, with online stores attracting us with a vast selection and emphasizing the availability of all products, B2B transactions present a totally distinct situation, and individual customers usually buy one-off pieces.
Within the B2B sector, buying single pieces isn't common; instead, customers might require 150 units of a particular product. Simply speaking about availability in broad terms doesn't suffice in this context. The B2B customer looks for precise information about the products' availability, as it is crucial for the planning and conducting of their business operations.
It's our responsibility to present reliable information about the availability of our products, reflecting different situations. Are we in a position to meet an order for 150 units of a particular product? When can we make it happen? Can we supply more if that's what the customer wants?
This is just the tip of the iceberg.
This information must also be tailored to different customer segments. Different customer segments in the B2B sector often require unique assortments. It could result in customer X viewing one group of products and customer Y another, with customer Z receiving a combined offer. Managing a diverse catalog and automating these processes is among the primary challenges in the B2B industry.
Is the product's price transparent enough for the B2B client?
The final important aspect is the determination of the product's price that the customer will be charged.
Really, pricing? Is the topic of prices really that complicated?
Just as B2C customers have clear information on price and delivery when buying online, the B2B customer should also have access to a similar level of transparent information.
Asking 'How much does the tool cost?' in B2B sales isn't as simple as it may seem. Here, prices are generally established through one-on-one negotiations, and they may vary depending on many aspects like the order size, long-term commitments, or even certain payment arrangements.
It's vital to understand that relationships lie at the heart of B2B business, irrespective of a company's size, industry, or country. Often cultivated over several years, these connections enable customers to approach their advisors or sales representatives with inquiries about anything from product availability to price, delivery schedules, credit limits, or even outstanding invoices.
The customization of prices to suit individual business agreements is a challenging yet essential requirement for e-commerce platforms. This must be done with full transparency, making the information easily available to the customer, as it is key to achieving both user satisfaction and a more efficient sales process.
The implementation of e-commerce may be a complex task but it holds the potential for expansion and increased earnings. By employing the correct strategies and tools, businesses can successfully oversee their store and excel in B2B sales.
Putting it all together.
In the task of implementing a B2B platform, give careful consideration to:
Creating a product database (Can B2B customers easily identify and understand what's being offered?)
Providing information about product availability (What steps will guarantee that B2B customers get what they need?)
Determining the pricing structure (Does the customer have clarity on the product's price?)
Follow our blog to learn about further challenges and find out how to effectively implement a sales platform and PIM in the B2B sector. We're here to provide comprehensive insights that will empower you to transform these challenges into lucrative opportunities for your company.