Since Adobe's acquisition of Magento in May 2018, a growing part of the Community is filled with a feeling of uncertainty and frustration, increased by the lack of transparency and a public roadmap. It is not clear what strategy Adobe will adopt for Magento Open Source and the Community members don't see any serious new advantages coming.
On September 14, 2021, an Open Letter to the Magento Community was published with the aim to initiate the discussion and voice concerns about the future perspectives for Magento OS. The initiative expressed also a strong need to secure, maintain and develop the project.
The next step was a moderated discussion panel that took place on September 20 during Meet Magento Poland 2021 in Poznań – "Building Magento Open Source Future." The participants showed a great passion for the product and emphasized the urgency of the situation.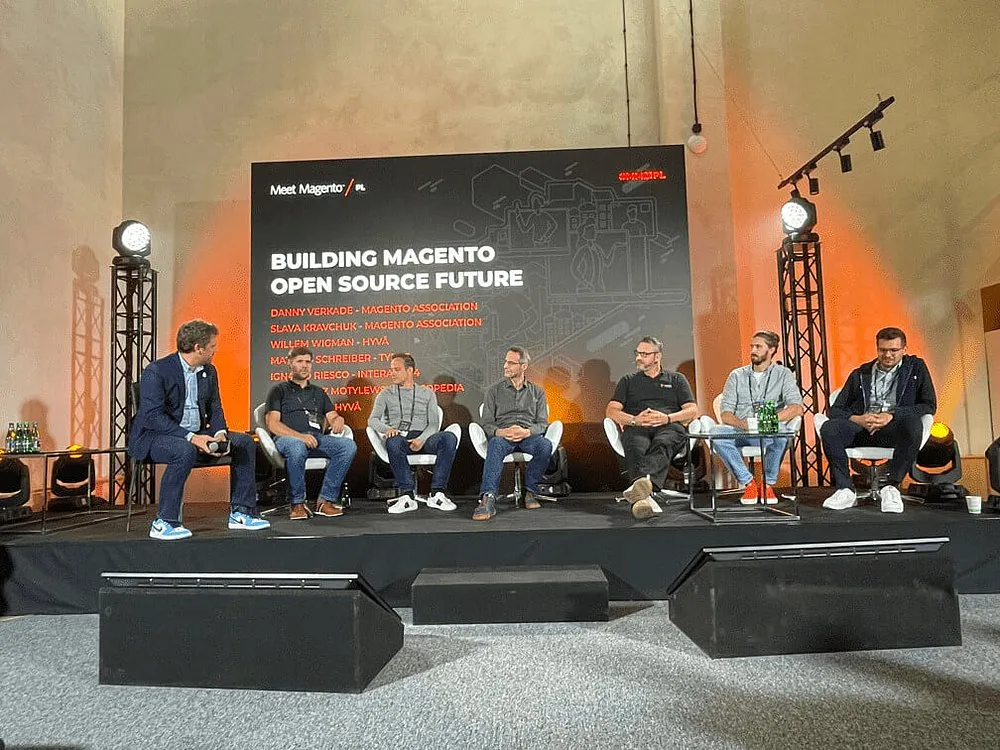 The discussion panel featured the following experts:
▪ Danny Verkade – Magento Association
▪ Slava Kravchuk – Magento Association
▪ Willem Wigman – Hyvä
▪ Mathias Schreiber – TYPO3
▪ Tymoteusz Motylewski – Macopedia
▪ Vinai Kopp – Hyvä
▪ Ignacio Riesco – Interactiv4 (moderator)
What statements were made?
⇰ "89% of the decisions for open-source software is done by recommendation of the agencies."
⇰ "Having a roadmap is not important, it's vital. It's the most important thing in open source that you can have."
⇰ "In open source whoever delivers is right."
⇰ "I strongly recommend not to lose the Community. This would be what I would recommend to Adobe."
⇰ "Of course, we have these pitchforks that try to clench on the ladder that we wrote and try to put their negativity into that. That's not us. That's not what our movement is about. We want to see how we can keep this Community together and stop the drainage."
⇰ "The way the platform is moving currently adds more complexity. That's the opposite direction of where I would like to go."
⇰ "SMB market that I care about, the agencies that I speak to on a daily basis – they are lost."
⇰ "We felt a really strong sense of urgency to get a clear vision of our future – what our work, our life with Magento looks like in five or ten years."
⇰ "We believe a real innovation can still happen."
⇰ "We are very willing to invest in our version of Magento."
⇰ "There is a saying: if you want to go quick – go alone. If you want to go far – take a company."
⇰ "It's not an initiative against something but for a better product, for a better ecosystem."
⇰ "There is enough critical mass for this product to strive forward whatever the path will be."
⇰ "I'm in the Magento Community for over 10 years and right now I have no idea what's the official vision for Magento Open Source. I don't know that and I would like to know."
⇰ "If the Community comes together and shares that vision as well, that will trigger a stronger message to Adobe because the more people are behind it, the stronger that voice will be."
⇰ "We can take Magento, make it simpler and empower the Community to fill this hole, attract new developers, grow the ecosystem and move it into the future."
⇰ "Let's take it into our own hands and make a future fork."
⇰ "It's time to act, to move."
What is the future of Magento Open Source?
Vision and Innovation
Talking to merchants, vendors and agencies showed that the Magento OS platform is shrinking. Adobe focuses on the enterprise market so small and medium-sized businesses don't know what awaits them. The panelists shared a vision to make Magento more accessible to SMB merchants and prevent losing them by lowering entry barriers and improving performance. The project development should also become more predictable. The Community could open the e-commerce platform for smaller shop owners and increase coverage. As a result, the market is growing as a whole.
Magento Open Source has an untouched potential. The Magento Community hopes they can still compete for customers and drive innovation. Reducing complexity is a great opportunity to attract new developers with fresh ideas to contribute to the core. Right now, as Adobe makes it more complicated, there is no place for junior developers who could learn from GitHub which is essential in open-source projects.
Fork and Independence
Magento is a trademark that belongs to Adobe but as a product, it was always closer with the Community. The Magento Community wants to enjoy a sense of independence and control over the platform again. It turns out that their needs towards the Magento platform differ from Adobe's interests. The upstream should be able to fork as many times as it is necessary. However, the representatives expressed openness to build Community and product together with Adobe, Associacion and everybody else willing not only to talk but to DO. The movement is not against Adobe. Magento OS can still remain an upstream-compatible fork and an open dialogue with Adobe will be welcomed. As Vinai Kopp from Hyvä said, "it's more like we are providing a missing ingredient." Ideally, if there will be a very good feature, it could be pushed upstream and integrated into the main Adobe product. On the other hand, if Adobe makes changes, Magento Open Source could inherit from upstream so that lower market segments make use of it. Everything would happen in the same ecosystem.
Roadmap
Mathias Schreiber talked a lot about experience in community building and product life. In his opinion, fixed release dates should be prioritized over feature sets, promises, plans. Companies and agencies prefer long-term planning (e.g. year in advance) even if it is not possible to deliver every single feature. It has been pointed out that a road map is considered one of the most important things in open source because it affects the financial existence of many merchants. That's why a strategy and clear vision of the future should be requested.
Final word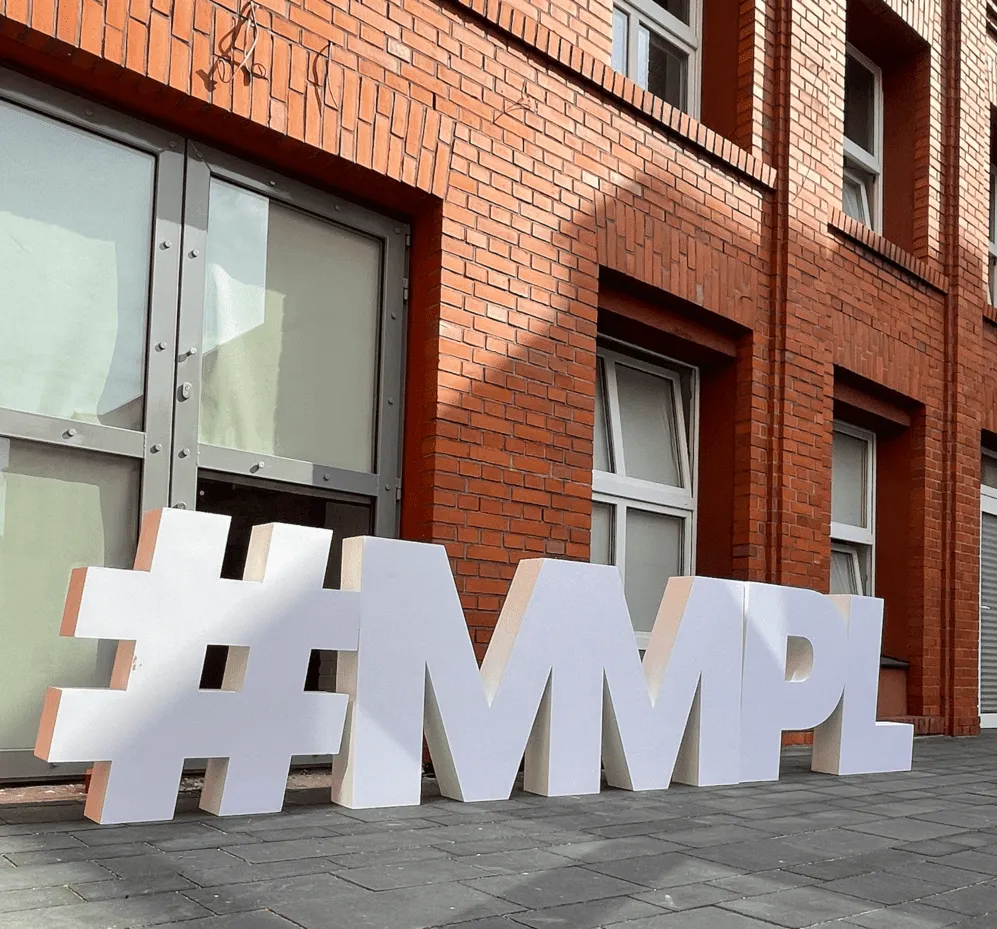 It was a big day for the Magento Community. Many people waited for the discussion and were interested to hear about the future of Magento Open Source. Tymoteusz Motylewski believes the topic will be continued.
The current situation shows that Adobe needs to find a solution which will be beneficial for them, agencies as well as merchants. Adobe should do everything to keep the Community together and not abandon the huge Community contribution. It is time to put things into action and make an effort to explore possibilities of collaboration.
If you want to watch the whole Meet Magento 2021 discussion panel "Building Magento Open Source Future", click here.