Do you find yourself frustrated from working with Excel? Has the constant search for technical documentation and product images left you feeling completely exhausted? Or have you noticed errors in the specifications on your website without anyone monitoring the data completion process? The solution to these obstacles is the implementation of a robust PIM (product information management) that will serve as the central database for all your products.
Once you've examined and compared all the available solutions in the market, you're already convinced that Akeneo not only meets your expectations but also offers a user-friendly interface and valuable features. Typically, during the first meeting with the team, a significant question that often arises is: how much will it cost to implement Akeneo?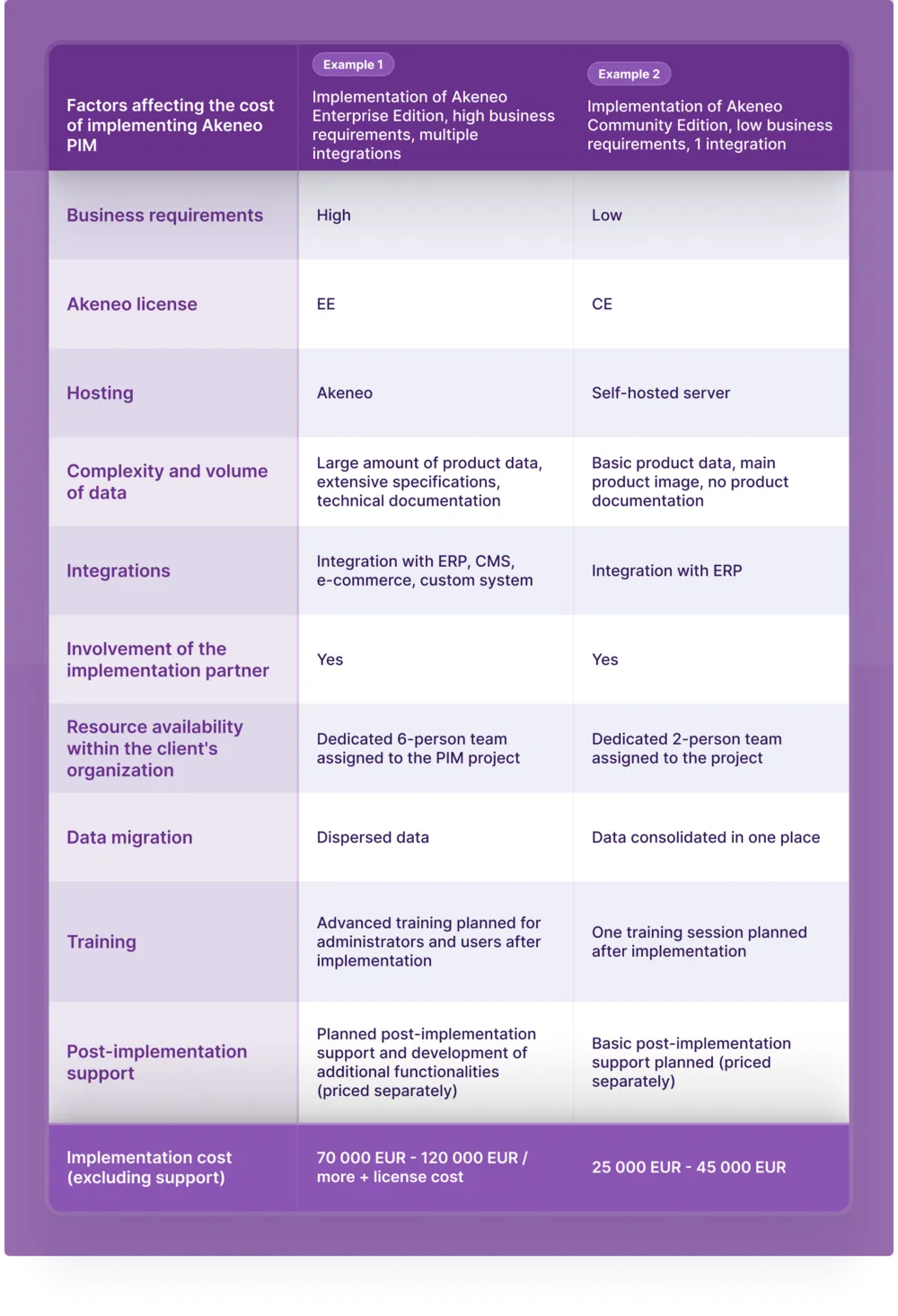 Summary
To sum up, the implementation cost of Akeneo PIM is influenced by multiple factors and the specific requirements of the system. It is crucial to understand that implementing Akeneo PIM can enhance and streamline various processes in the organization, resulting in long-term benefits, including:
reduced time and effort spent on compiling product data;
accelerated time-to-market for products;
elimination of errors in product descriptions, leading to a reduction in customer complaints;
improved quality of specifications, contributing to increased sales;
real impact on customer experience.
The implementation of Akeneo PIM often marks a significant milestone for businesses. It provides a centralized repository for data aggregation and brings much-needed organization and accessibility to product managers who can access the information and resources they need. Akeneo PIM becomes the primary source of product information, distributing it to various channels such as online stores, CMS, print catalogs, and more. Estimating the costs of implementing Akeneo PIM relies on crucial elements such as allocating resources, selecting the right implementation partner, accurately estimating the required implementation timeframe, and defining the scope of functionalities that users will utilize. These fundamental areas contribute to an accurate cost estimation for the implementation process.